Prepare the Cash Cannon: Steam's Autumn Sale Begins
For PC gamers, November and December tend to be the most exciting months of the year. Not only is it when some great games get released, but Valve launches not one, but two mega sales. Today, the heroic developer kicks-off the first of these, simply called ' Autumn Sale 2013 '.
This sale lasts for a solid week (Wednesday - Tuesday), with 9 primary deals featured each day. As usual, 4 'flash' deals can be found underneath these 9, which rotate every 8 hours.
Unlike the winter sale, there are no games within Steam to play (eg: collecting trading cards), but like most sales, it's not just what's on the front page that's on sale. If a game you want isn't on sale, it's worth adding it to your wishlist, because Steam will then notify you if it happens to receive a big discount.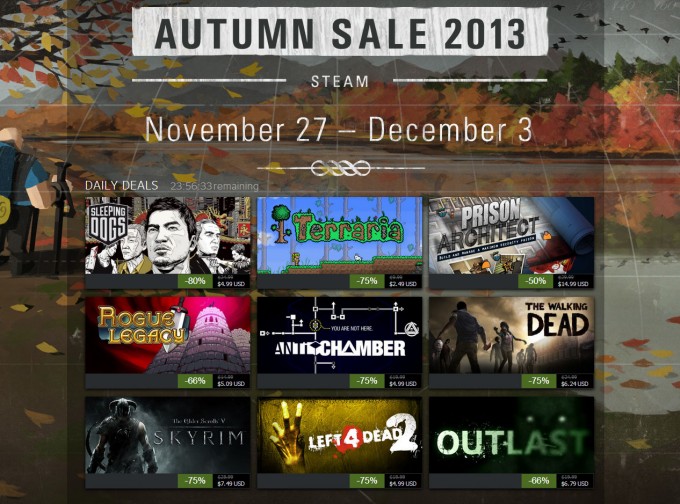 Valve will sometimes put all of the biggest discounts up-for-grabs again on the final day of the sale, but it's not always wise to trust that - I don't remember it playing out quite like that with the summer sale. If a game goes on for 75% or higher off, it'd probably be best to just jump at it, because it can't possibly get much better than that (90% off games are rare).
At the moment, the excellent Sleeping Dogs (our review) can be had for $5, Terraria for $2.50 (to my recollection the lowest it's been on Steam), Antichamber (our review) for $5, The Elder Scrolls V: Skyrim for $7.50 (that is the definition of a steal, right there), and because it can never go on sale enough, Left 4 Dead 2 can be found for $5.
It's also worth noting that F1 2013, which JD just reviewed, can be found on sale for $30 for the Regular Edition and about $40 for the Classic Edition.